When it's time for a new Rockwall AC system, you have an infinite amount of choices. Express Service Rockwall will work with you to ensure that we find a unit that meets your needs as well as your budget. We can recommend a variety of ENERGY STAR systems to help you get the most out of your system and lower your electric bill at the same time.
Replace AC in Rockwall, TX
It's essential to have the best AC system that meets your budget. You will find that we are a factory authorized dealer of most major AC systems. We can also include a number of programmable thermostats when replacing your Rockwall AC unit to ensure that you have the ability to control your thermostat how you want so you're as comfortable as you desire.
We will take out the old AC unit and recycle it and dispose of it properly. We can then offer installation of the new unit, including tests to ensure that it is running properly before we leave your home. Our services are guaranteed for your satisfaction and our technicians work hard to ensure that you are happy before we leave.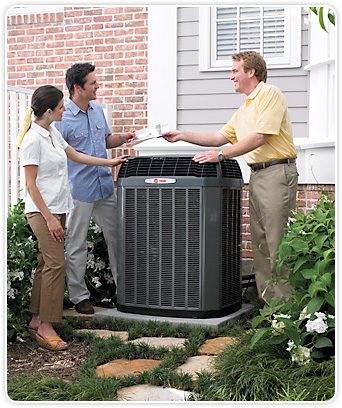 AC Replacement Services in Rockwall, TX
Unfortunately, air conditioners don't last forever so if yours is older, we can recommend some different repairs in some cases to help extend your unit's life. However, there will come a time where you will need to replace your old AC system in order to avoid throwing money away on repairs year after year. We offer repair contracts so your HVAC system gets year-round service to keep it as efficient as possible. Contact us for more information.
When that time arrives, trust Express Service Air Conditioning and Heating to provide you with a full system work-up of why you need your system replaced and what your options are for a new system. We have a number of options for you to consider, which allow you to get the best unit possible within your budget and within your preferences for fresh cool air in your home.